Good morning and happy Friday! Well, I'm kinda sad to report that since these past weekends have been so busy, I haven't had much time to work on any crafts. Plus, the ones I am working on, are taking a bit of time. This weekend Ryan and I are going to start working on refinishing our floors, so my afternoons after work have been dedicated to clearing out the rooms and prepping. Hopefully, I'll have some updates for you next week, if not the full tutorial.
Nonetheless, I didn't want to leave you empty handed, so I'm sharing with you a few recipes that I've found online and have become part of my regular rotation. Note: the pictures have been taken from the source site.
This one is from AllRecipes.com and I love it. Some modifications I make: I up the butter and onion to half a cup and instead of boiling the veggies and chicken in water, I use chicken broth which later gets reused for the sauce. I also inevitably end up using more veggies and chicken, but do whatever works for you. If I'm not in the mood to make pie crust from scratch, I use the Pillsbury Deep Dish Pie Crusts which are delicious.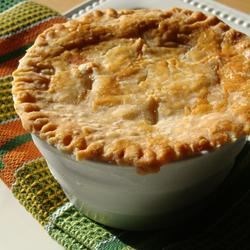 Shared by Table for Two, this recipe is delicious, plus you can make in the crockpot, which is perfect for cleaning-the-house Saturdays. Sometimes, I make it with fresh broccoli instead of frozen, but other than that, I follow the recipe as is. Makes the house smell delicious, or really stinky depending on how you feel about it.
Sooo easy to make and sooo good. Really, I've never tried a recipe I didn't like from Iowa Girl Eats, but this one has to be my favorite. Plus, it takes no time to make (I usually use the Steamfresh Brown Rice). If anything, I add more veggies and a little more sesame seed oil. Serve it with as side of pot stickers, yumm!
Ok, I've only tried this recipe once, but it was shockingly good and easy to make. The flavors from this dish from Skip to My Lou are amazing. I definitely know it's going to be a part of my rotation more often.
So I only use this recipe for the meatballs, can't vouch for the sauce or anything else. These meatballs turn out amazing though. Pair them with your favorite spaghetti and sauce, some garlic bread, and you'll be set for dinner. They also don't take much time to make. The one modification I make is that I use only 1 pound of ground beef (since that's how we get it from the butcher), so I slightly modify the ingredients' quantities to fit my mixture. Really good! I haven't tried it yet, but I'm pretty sure they'll work just as well as appetizer meatballs if baked smaller, the form holds pretty well. This one is from the Food Network.
With the exception of the Fettuccine, I've made this recipes multiple times and always love them. Easy and delicious. Most of these I've also pinned with lots of other great recipes, if you want to check them out on my Pinterest page.
Have a good weekend!